I feel like I am living a version of "Tomatoes Gone Wild." Our garden has out produced the needs of my family of five. The cupboards, pantry, storage closet, and freezer are full of garden fresh goodness preserved for winter meals, especially anything and everything tomato based.
I was going out of town for the weekend and had mounds of fresh garden tomatoes covering my kitchen table… again. I couldn't bear the thought of them going to waste, but I certainly didn't have time or the desire to do anything with them before our weekend trip.  On a whim, I posted, "Free to a good home, tomatoes!" on my MOPS (Mothers of Preschoolers) Facebook page. Within thirty minutes, I had found not one, but two moms willing and excited to take my tomato harvest.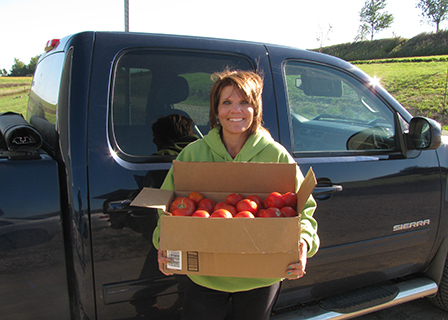 Gardeners are used to sharing their produce with friends, family, and neighbors. We labor with passion over our garden and cringe at the thought of any of it going to waste. For most of us, it's either feast or famine in the garden. In good seasons, there is always an abundance to share. Whether through social media or personal relationships, we can always find someone who could benefit from our hard work.
When we lived in Kansas, we often donated to Plant a Row for the Hungry. Where we live now, there are three different food banks that take garden produce. Helping those in need brings my gardening to a whole new level. Teaching my girls, through example, how to help others is a virtue very important for their character development. Sure, I want them to know how to cultivate fertile soil and feed themselves through gardening, but more importantly, I want them to recognize the needs of others and to be able to give generously, as we did with the two MOPS moms.
If you are living your own version of "Tomatoes Gone Wild," I encourage you to find someone to share with… and bring your kids along when making the delivery.
Keep up with the Foundation-