STUDENTS
Explore topics in soil science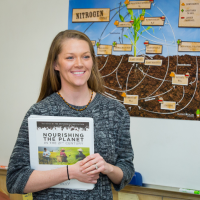 PARTNERS
Planted in 2004, Our Impact is Still Growing
The Nutrients for Life Foundation was formed in 2004 by leaders in the fertilizer industry with the belief that developing solutions to sustainably feed the world begins with educating the next generation of innovators and decision makers. In 2017, we impacted 4.9 million students with our educational resources. This achievement would not be possible without an ever-expanding network of donors, advocates and volunteers.
PARTNER WITH US
NEWS
Nutrients for Life Professional Development in Cleveland June 2019
Nutrients for Life Foundation will be hosting our second Professional Development Event, Soil – Life's Main Ingredient, June 10-11, 2019 in Cleveland, Ohio. The event will be held in conjunction with The Fertilizer Institute's 4R Summit.
Learn more now