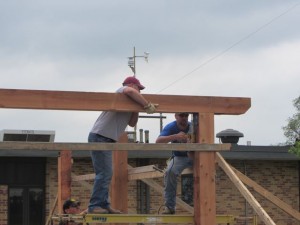 Have you heard the joke, "How do you eat an elephant? One bite at a time"?  I might add, "with a lot of volunteers!" That's how this garden project is going; we tackle one step at a time. First the vision, then the fundraising, and now the building: All of this is accomplished with the help of parent volunteers. We can hardly wait to see our kids learning in the outdoor classroom! Until then, we have skid loaders, scaffolding, tools and piles of dirt.The construction phase has been led by David, a dad whose full time job is project manager for a construction company. Like me, he is invested in this project because he sees the benefit of a learning garden on our children's education. David's volunteerism has brought skills, knowledge, and resources that allow us to complete this project with discounted professional contractors and volunteers. In my mind, David's leadership is priceless, we would not be this near completion had it not been for his willingness to embrace this project and lead all construction aspects. If you are building an outdoor classroom or learning garden, look for a David!  Survey your community of parents for those who have skills in construction and project management. It will be worth it.
Since our oldest started Kindergarten five years ago, I have consistently volunteered at the school with many other moms. On occasion, I have witnessed a dad volunteering at the school, but rarely!  Adding an outdoor classroom and learning garden to the school has given dads the opportunity to get involved in their child's education. I think it is so valuable for our children to see us helping others! Fathers at school are just one more added benefit to a learning garden.
When working with volunteers, we must realize that their time is valuable too. It's not good to have volunteers standing around with their hands in their pockets, waiting for something to do. Sometimes we only need two workers and other times we need ten, so we plan accordingly.  When volunteers feel like they contributed and were appreciated, they will come back to help next time.
It is also necessary to match volunteers to the need. Right now, we are preparing for our annual plant sale and building the pergola. This provides a need for volunteers with different skill sets.  Thankfully, we have a long list of volunteers all with different talents to assist; lifting 300-pound cedar posts or counting the number of petunias that were pre-ordered (or babysitters for my little ones so that I can volunteer too).
Our construction volunteers have had to be flexible and wear muddy boots due to our spring weather pattern. It has rained every Friday, making a muddy mess and we've endured a few tornado warnings; yikes!
Our list of volunteers comes from a very active PTO. When we have a volunteer need, we send an e-mail and pray for a response. Usually, we get a great response, but there has been a time or two where I had to beg…I could not eat this elephant by myself! We need volunteers!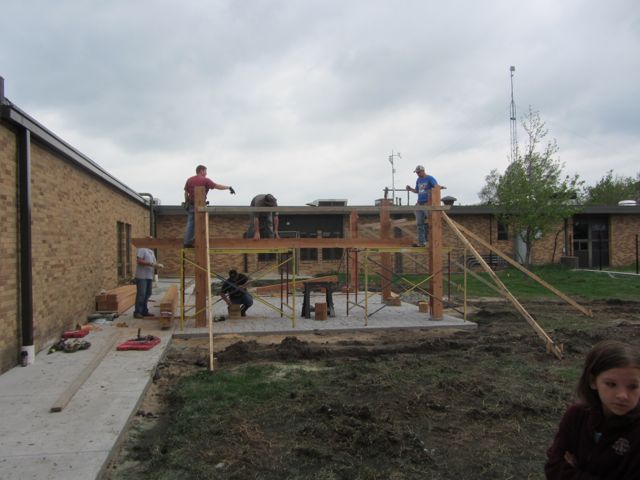 Read more about classroom gardens in our Learning Garden blog series:
Learning Garden 12: Teach the Teacher
Learning Garden 11: Planting Day
Learning Garden 10: How Does Your School's Garden Grow?
Learning Garden 9:  Rain Barrels
Learning Garden 8: Plant Selection
Learning Garden 7:  Raised Beds
Learning Garden 4:  Designing the Garden
Learning Garden 2: Long-Term Sustainability