As I drive to the grocery store, I pass a school with an outdoor classroom and learning garden. I have often been envious of the space and considered how lucky they are to have it.  A few years ago, the school principal contacted the Extension Office asking for help from the Master Gardeners. Despite having an amazing resource, only one (yes, one) teacher uses the space. An incredible resource left fallow and neglected by most of the staff.  How can this happen? What went wrong? Why aren't they using it?
To prevent this from happening at our school, we went beyond the opinion of our committee members and surveyed our teachers and staff on the components they wanted to add to the outdoor classroom and learning garden. It is important to make this their space with elements that will help them meet educational goals required by the state, not just a "pretty space." The response from the survey was fantastic. I am continually amazed at the creativity and resourcefulness of our teachers.
 OUTDOOR CLASSROOM WISH LIST
Stump gathering circle
Bat house
Compost bin
Worm bin
Rain bin
Shed
Hot bed-cold frame
Sprinkler system
Bean tunnel
Sidewalks
Raised beds
Handicapped raised bed
Butterfly garden
Shrub borders
Native grasses and perennials
Mums
Bird houses
Squirrel feeder
Sunflower bed
Wind mill
Fencing
Pumpkin and gourd patch
Fruit trees
Strawberry hill
Herbs
Wildlife habitat
Places for kids to sit and listen
Place for demonstrations
Shade
The committee created the basic design of the outdoor classroom including the elements listed on the teacher wish list, but we needed a professional to take our plan to the next level. The PTO put forth the money so that we could hire a landscape architect to take this wish list and make it a reality. Having a professional involved from the beginning has been the best thing we could have done. The architect was able to offer insight and experience that made our plan even better and more functional. We made special effort in making this area accessible to the handicapped, as well as assuring the outdoor classroom would be sustainable for years to come.
I also sought the advice of two horticulture agents from the Extension Education Services who offered some very practical advice on the design as well as plant species suggestions. The agents answered some questions we had about the soil around the school. Knowing that soil was the main ingredient to our gardening success, we talked about how to improve the soil's fertility with organic matter and fertilizer.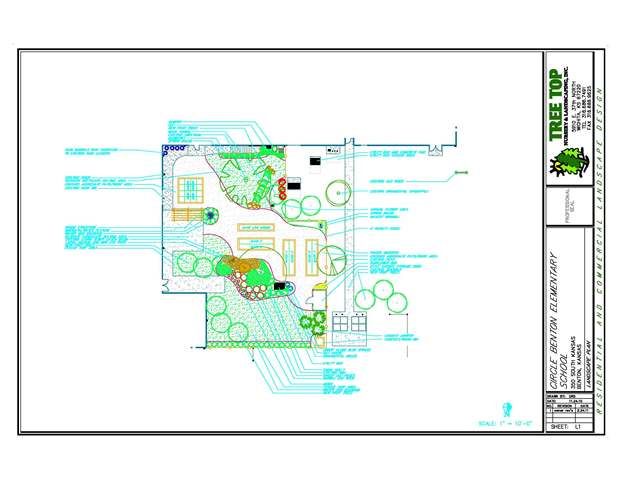 The initial drawing was tweaked and improved until we had a plan that was satisfactory for everyone. We have interest and investment from our teachers, and I am confident we will have more than one teacher utilizing this space for hands-on learning!
With vegetable gardens, sunflower beds, and gourd patches our students will literally see and taste the fruit of their labor and the rewards of hard work and patience. The bean tunnels and worm bins will demonstrate the fun nature has to offer. We envision students reading under the shade of a tree, gathering leaves for an art project, sitting with paper and pencil calculating garden related math problems, quietly journaling their observations of squirrels and birds, and of course with dirty hands, experiencing the real science they only now can read about at a desk.
Now as I drive passed the school with the un-used outdoor classroom, I'm not envious anymore. But I do hope those teachers are inspired by the daily use and success of our outdoor classroom and learning garden.
Read more about classroom gardens in our Learning Garden blog series:
Learning Garden 2: Long-Term Sustainability
Learning Garden 4:  Designing the Garden
Learning Garden 7:  Raised Beds
Learning Garden 8: Plant Selection
Learning Garden 9:  Rain Barrels
Learning Garden 10:  How Does Your Garden Grow?
Learning Garden 11:  Planting Day
Learning Garden 12: Teach the Teacher
Learning Garden 13: First Harvest
Learning Garden 14:  How Do You Say Thank You
Learning Garden 15:  Plant a Seed and Watch It Grow
Learning Garden 16: From the Learning Garden to the Cafeteria