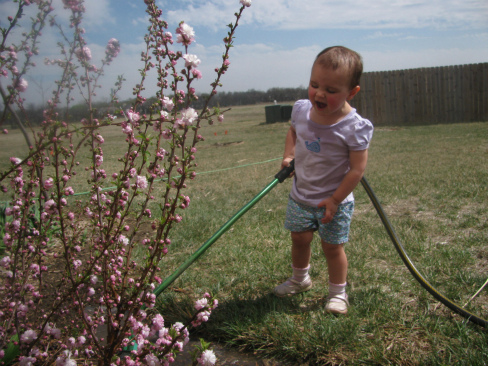 This week, I received a call from my next door neighbor, Marilyn. She was at the grocery store and they had just unloaded a fine selection of Japanese maples (I find it amazing you can buy trees at almost any grocery store during spring). Marilyn called to get my "expert" opinion, "Can I plant this in my yard and where should I plant it?" Aren't we all guilty of this type of impulse buy?
She is retired and has back problems. So whenever Marilyn buys a plant, I get the privilege of planting it for her. The entire neighborhood and planet Earth benefit, so yes, I am very happy to plant her Japanese maple tree. I was once told to be the kind of person I wanted my children to grow up to be. That is why it's important for me to show my children how to volunteer and help others, without expecting something in return. The girls and I helped Marilyn unload the tree from her SUV and then put on our gloves and did some planting!
Coincidentally, this is National Volunteer Week, proclaimed by President Obama. In his proclamation it states:
"Today, as many Americans face hardship, we need volunteers more than ever. Service opportunities tap the energy and ingenuity of our greatest resource — the American people — to improve our neighborhoods and our world."
He encourages us to discover our own power to make a difference. In honor of President Obama's proclamation, I thought I would encourage you to use your gardening skills to help others. Here are a few ideas:
Plant a tree for your neighbor
Mow a lawn for a busy mom
Remove debris from a flower bed
Start a community garden
Plant an extra row in your garden for the food bank
Serve on a school garden committee
Present a vase of flowers from your garden to a shut-in
Bring a hanging basket to someone in a nursing home
Prune a shrub or tree for a neighbor
Involve your kids and pass on the legacy of volunteerism, it will make your impulse buys more meaningful.