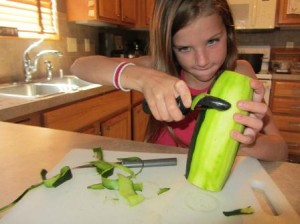 "I'm hungry! Can I have more bikini bread?" asked my three-year-old.
"What did you say?" I asked.
"Can I have more bikini bread?" she said.
I could not contain myself that was knee-slapping funny! Somehow, our summer swimming obsession has crossed over into our food. She was asking for more of the zucchini bread. I wanted more zucchini bread too. If you have never had it, the bread tastes nothing like zucchini and is the only way my three girls will eat it. Zucchini bread is melt-in-your-mouth sweet and tender.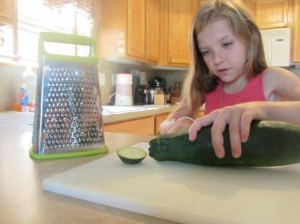 Since I have a small backyard garden, I do not grow any type of squash, like zucchini, because of the space it requires. Thankfully, most gardeners have more than enough zucchini and are happy to share. With proper watering and fertilization, one zucchini plant generally produces more than enough zucchini for a family of five. This summer squash can be boiled, grilled, steamed, stuffed and baked.
Most zucchini is eaten fresh because it is hard to preserve, however, zucchini bread can be frozen up to a year. My daughter and I quickly whipped up a batch. I took a few pictures of her preparing the zucchini and shredding it before adding it to the other ingredients. I did not get a picture of the finished product, because it did not last very long. Everyone was asking for more, "bikini" bread!
Try this recipe from allrecipes.com:
INGREDIENTS:
3 cups all-purpose flour

1 teaspoon salt

1 teaspoon baking soda

1 teaspoon baking powder

3 teaspoons ground cinnamon

3 eggs

1 cup vegetable oil

2 1/4 cups white sugar

3 teaspoons vanilla extract

2 cups grated zucchini

1 cup chopped walnuts
DIRECTIONS:
| | |
| --- | --- |
| 1. | Grease and flour two 8 x 4 inch pans. Preheat oven to 325 degrees F (165 degrees C). |
| 2. | Sift flour, salt, baking powder, soda, and cinnamon together in a bowl. |
| 3. | Beat eggs, oil, vanilla, and sugar together in a large bowl. Add sifted ingredients to the creamed mixture, and beat well. Stir in zucchini and nuts until well combined. Pour batter into prepared pans. |
| 4. | Bake for 40 to 60 minutes, or until tester inserted in the center comes out clean. Cool in pan on rack for 20 minutes. Remove bread from pan, and completely cool. |