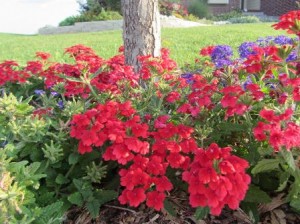 I like to think I have the prettiest house on the block! A little prideful, I know, but I can't help it! I like being outside, and gardening gives me an excuse to enjoy some sunshine.  I enjoy planting, watering, and nurturing a plant to its fullest potential. To keep my landscape the "prettiest on the block," I plant a combination of perennials and annuals.  By planting more annuals than perennials, my garden is full of bright colors all summer long.
For gorgeous blooms, my flowers need more N-P-K than my soil can provide.  To give my plants the nutrients they need, I fertilize every week to ten days. My flowers are fed with a water-soluble plant food that is high in phosphorous (9-59-8). When I see beautiful landscapes or botanical gardens, without a doubt, their colorful success relies on a consistent fertilizer schedule.
If you are looking for ways to improve your landscape, fertilize on a regular basis. When shopping for fertilizer, it is important to consider the types of plants you are growing. A tree requires a different fertilizer ratio than an annual flower. The three numbers on a fertilizer label refer to the percentage of nitrogen, phosphorus, and potassium in its compound.
When used responsibly, fertilizers are a great way to achieve your landscape's max potential. Of course, always follow label directions and remember the 4R's of nutrient stewardship.
Right Source – Match fertilizer types to your garden plant needs.
Right Rate – Match the amount of applied nutrients with what the plant is actually missing and do not over-apply.
Right Time – Apply nutrients when plants can best use them.
Right Place – Match amount of fertilizer to plant needs. Follow label directions.
Now that you know the secret to a colorful landscape, go fertilize!
To learn more about 4R Nutrient Stewardship, visit http://www.nutrientstewardship.com/what-are-4rs.