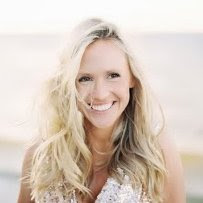 "Start small, then let it gain momentum," is the advice Sarah Tucker would give someone starting a school garden. Although this mama is currently focusing her attention elsewhere (namely, on her baby boy and her own wedding business), she has a wealth of knowledge about school gardens from her time teaching at an inner-city school in St. Petersburg, Florida. Sarah took a moment from her busy schedule to share her experience and show us how persistence can take students from veggie-haters to healthy eaters.
Tell us about your background with science and child health.  What made you decide to start a school garden?
Right out of college, I taught high school health at an inner-city school.   I've always been a health nut and I was truly horrified by my students' choices in food!  Surprisingly, it's not just an inner-city problem.  I also taught at the University of Mississippi where my students' menus were no different.
I dove into researching all about edible schoolyards in 2008 when I watched a documentary on Alice Waters.  I was earning my masters in health promotion when I got the chance of a lifetime.  I discovered a dedicated college professor doing almost exactly what Alice Waters was doing in California, but right around the block in St. Petersburg, Florida!  I contacted Kip, the college professor, and inquired about a graduate internship with him.  He was thrilled and so was I!  It was a perfect match.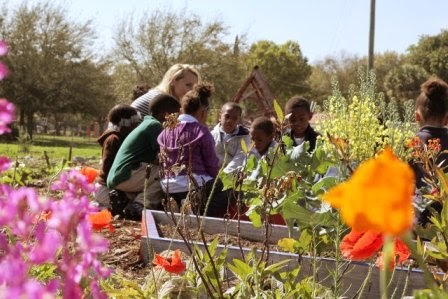 As a volunteer, how did you expand the learning opportunities in and outside of the garden? 
Initially, the garden only incorporated science lessons, being that it fits within the curriculum Florida states allow.  I expanded it into the kitchen where the students literally picked, cooked, and ate the fruits and vegetables they had grown in the garden.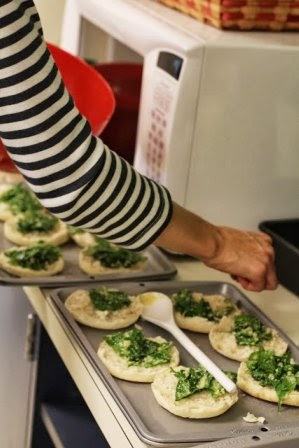 What was your experience working with teachers, students, and parents?
My experience was truly amazing.  The school is an incredible community.
How did you introduce the topic of soil health and nutrients to your students?
We had an entire lesson day devoted to compost.  The kids helped turn it, see what was in it, what should go in compost, and then they got to see how healthy the soil was with compost.   We compared the soil with compost to the soil out in the school field.  The soil in the field was mostly sand – we're in Florida, after all!
What were the biggest difficulties with your school garden? 
It's amazing how much work it takes to keep a working farm going.  It really required so much team work and effort.  But, luckily, the volunteers, students, and teachers all chipped in!    A school garden is definitely a commitment, but so worth it!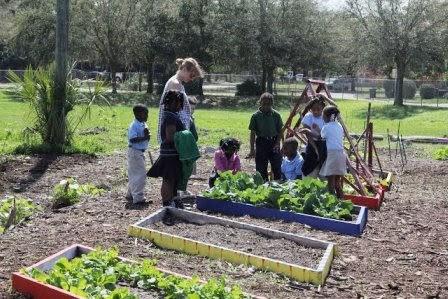 How did you see the students change as they spent time in the garden? 
Kids are so amazing, I was inspired by them every day.  Watching them go from thinking a vegetable was gross to then growing, cooking, and eating veggies… and eventually really enjoying them was incredible!  The experience transformed their way of thinking about fruits and vegetables.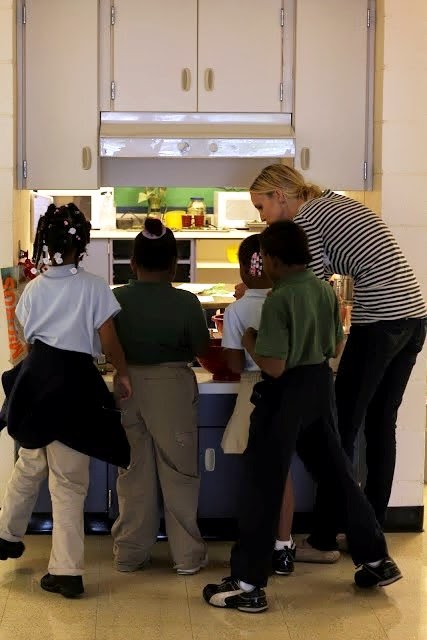 What was the greatest moment for you as a volunteer in the garden?
The greatest moments were when kids would ask for seconds and even thirds of Kale chips!  It was fantastic when I saw the kale chips be cooked and offered during lunch time in the cafeteria.
What would you advise to anyone hoping to start a garden or become involved with a garden at their local school?
Start small, and let it gain momentum.  People will become interested and offer help, let them!   Then you can grow and expand.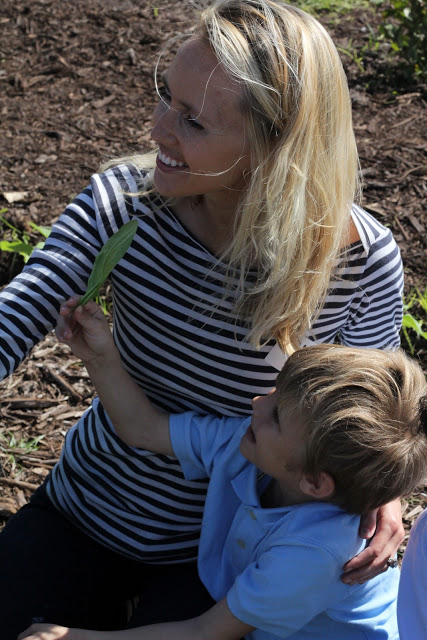 With a baby and your own business, Sarah Tucker Events, you are one very busy lady!  How do you stay connected to your passion of children eating healthy? 
I'd love to be able to volunteer right now, but nothing is as important as my own child for the time being.  I am now feeding him solid food and I'm enjoying the opportunity to cook for him.  It is my goal to have a well-rounded eater, and a vegetable lover!  I hope to volunteer once my baby is in elementary school.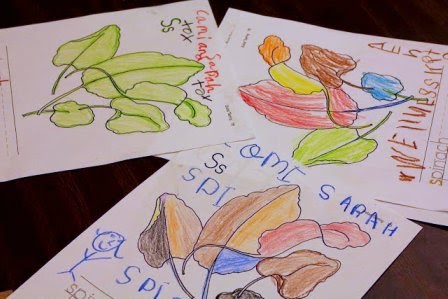 Keep up with Sarah here!
If you or someone you know has been a part of a school garden, please email estubbs@nutrientsforlife.org!