I had the pleasure of taking my five-year-old to "Kindergarten Round-Up" (and for another blog, I will tell you why we were tardy – not winning mother of the year that morning)! This event was pretty exciting for my Pre-K girl and emotional for me. How do they grow up so fast and right before our eyes?
The future kindergarteners walked independently to the classroom for screening, while the parents got a tour of the school and some words of advice from the principal and counselor. Now let me remind you, we have been attending the school for five years; I thought this was going to be a waste of my time. However, it turned out to be very inspiring. During the middle of the tour, we were escorted to the outdoor classroom and learning garden, of which I was introduced as the leading expert – ego boost! The principal explained how we obtained funding, a brief description of where we were in the construction process, and what the final learning garden would look like. It was awesome to see the expression of excitement on the kindergarten parents' faces; I was not expecting this kind of reaction. Their comments were supportive and affirming of our desire to bring such a classroom to our students.
We are nine weeks into the construction process of the outdoor classroom, and I am a bit exhausted. Being at "Kindergarten Round-Up" gave me the boost of energy (just like fertilizer does to a plant) and focus I needed to finish the job we started.
I entertained a couple of questions from the parents about the raised beds, so I thought I would continue the dialog started on the last blog about them. If you are building a learning garden, the raised garden beds may be the central focus of all your teaching. It is important that you have the right material for your school gardening efforts. Fortunately, our county extension office just renovated their demonstration garden, and I can show you some examples that can be used at school or at home.
Learning Garden 1: Made with red cedar with decorative metal corner brackets. Expensive but long lasting.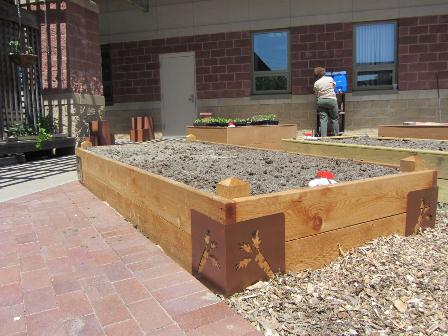 Learning Garden 2: Made from a "garden in a box" which you can purchase from garden magazines and garden stores.
Behind the "garden in a box" is the bed made with treated lumber. Somehow, I missed getting a picture of it (I'm going to blame it on my hot, tired, whiney kids).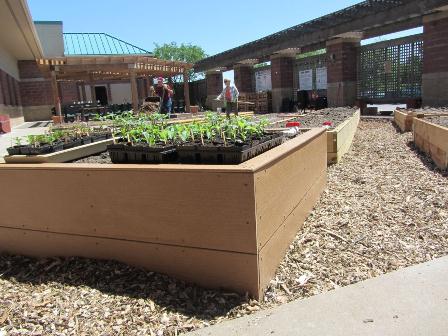 Learning Garden 3: Made with landscape pavers. Landscape adhesive was used to glue the pavers together.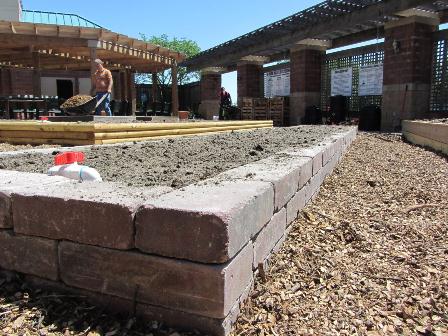 Learning Garden 4: Made with landscape timbers. Probably the most inexpensive way to building a raised bed unless the materials are donated for free.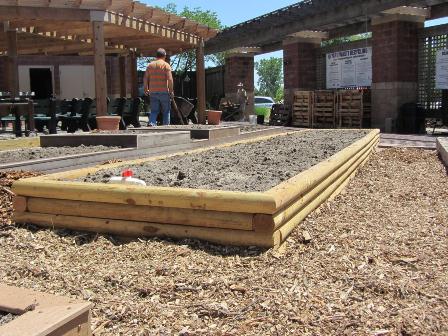 Learning Garden 5: Made with plastic lumber (Azek decking). Also expensive, but long lasting.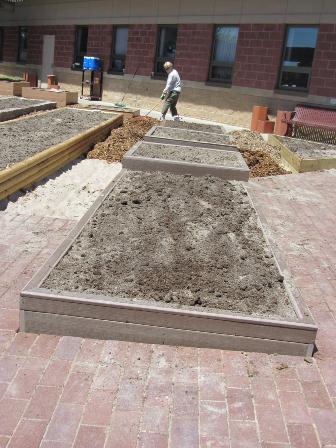 The triangle shaped bed in the right corner of the pictures is made from the treated lumber.
I hope these pictures will give you the boost, as the future kindergarten parents gave me, to keep digging in and working on your learning garden.
Read more about classroom gardens in our Learning Garden blog series:
Learning Garden 2: Long-Term Sustainability
Learning Garden 4:  Designing the Garden
Learning Garden 7:  Raised Beds
Learning Garden 8: Plant Selection
Learning Garden 9:  Rain Barrels
Learning Garden 10:  How Does Your Garden Grow?
Learning Garden 11:  Planting Day
Learning Garden 12: Teach the Teacher
Learning Garden 13: First Harvest
Learning Garden 14:  How Do You Say Thank You
Learning Garden 15:  Plant a Seed and Watch It Grow
Learning Garden 16: From the Learning Garden to the Cafeteria