We did it! For the first time ever, we grew pumpkins and peanuts! Adding new crops to the garden keeps our fingernails dirty and our interested peaked.
From one seed packet, costing $1.99 we picked 15 pumpkins!! If I had bought 15 pumpkins at $4.00 each, I would have spent $60. Growing the pumpkins was relatively easy this year. I fertilized twice, watered regularly, hoed weeds A LOT, and didn't have any insect problems. We are definitely going to plant pumpkins again next year.
Who knew they would be so heavy?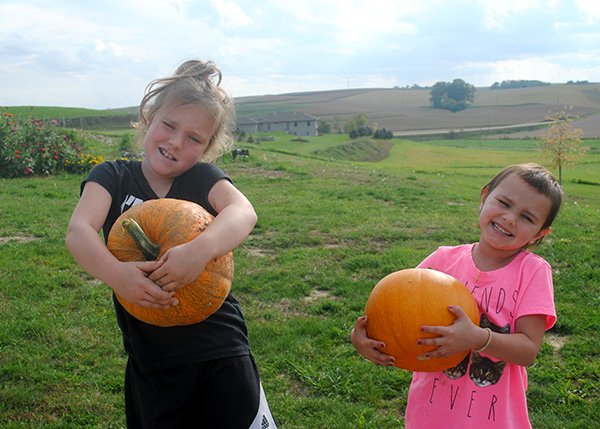 I didn't know anything about growing peanuts. I wanted to try something new and peanuts were for sale with the other seed last spring. I said, "let's try it," and threw the packet in the shopping cart. I am so glad I did. We have been talking about the peanuts all summer, anticipation of what it growing beneath the soil. Our plants were just beginning to turn yellow and that is when the seed packet said to harvest.  We pulled the plant up and much to our amazement, there were cute peanuts attached to the roots. We shook the soil off and studied the little nuts! Although they are harvested, the peanuts have to dry before we can eat them. We are going to hang them in the garage for a month. Oh, I hope they taste good and don't disappoint my hopes! I think we will try them raw and roasted.  Did you know that it takes about 540 peanuts to make a 12 ounce jar of peanut butter?
Could this be the beginning of a Halloween costume?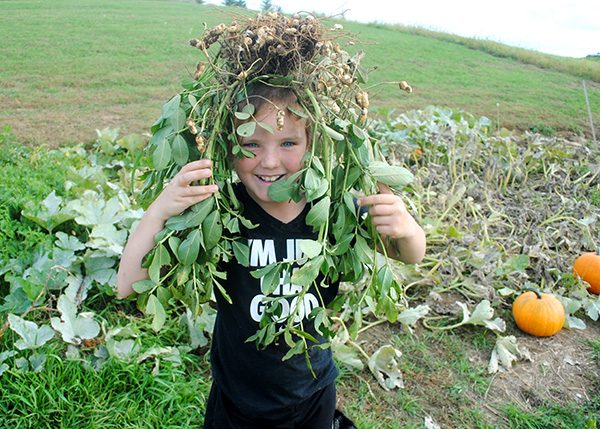 I would recommend adding pumpkins or peanuts to any home or school garden. Kids easily related to the big orange squash and the delicious taste of peanut butter. Both of these crops can be planted before school is released for summer and harvested in the fall when school is back in session.
Happy fall!