I think everyone should have a garden, so I talk about it all of the time. It must be working; my girlfriends are now gardening with their families. They are shopping the garden centers, sending me texts, calling me over to show what's blooming and I LOVE IT! Let's admit it, gardening is hot right now!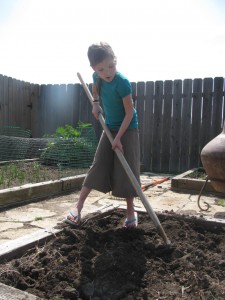 This is the year, roll up your sleeves, grab the kiddo's and start the garden you have been talking about for years. Oh, but I can't grow anything. Yes, you can! I will be the first to admit, I have killed my fare share of plants (carrots are my nemesis; we have the hardest time getting them to germinate!) The biggest mistake you will make is NOT starting. We all have to start somewhere.
If you already have a garden, read along, I'm sure there is something you can gain from today's blog. If I've missed an ingredient to success, please let me know!
The very basics to starting a garden:
1. Location, Location, Location: Find a sunny spot. A successful garden needs 6 hours of sunlight! You may also consider protection from the wind. That wind can knock down a new seedling pretty quickly. Make it easy to keeps plants watered, by locating your garden close to the water source.
2. Determine what your plants will grow in. It can be pots on a deck, a raised bed or simply a spot cultivated in your yard.  Let me encourage you to start small. It's much easier to manage a small garden plot and keep the weeds under control than have a large weedy mess. I have seen too many beginning gardeners, till up more than they can handle. Make it manageable and you will be successful.
3. Soil test!  Soil is the main ingredient for a successful gardening experience. You can do everything else right and foil a good garden plan with poor soil. Take the time to do it right the first time. A healthy garden bed is composed of an even mix of top soil, compost and nutrients. I have found that this combination provides good drainage and is easy to work with. As your plants begin to grow they will absorb the nutrients in the soil, which can be replenished with the addition of more organic matter or fertilizer.
4. Let the fun begin. Plant what you are going to eat! I also like to find something new, last year we planted purple potatoes, and they were a huge hit with my three girls.
5. They are alive!! Your garden needs your attention. Don't forget to water, weed, fertilize and love!