This past weekend, our Master Gardeners sponsored educational tours that featured seven spectacular residential gardens. Master Gardeners were present at all gardens to answer questions and present demonstrations, all for ONLY $10. I had the privilege of working Saturday morning at a beautiful oasis, completely landscaped by the home owner! I have great respect for homeowners who do it themselves. Maybe it's because I'm a Master Gardener and love the benefits of doing it myself.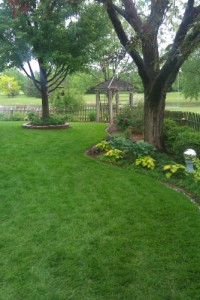 Despite the May showers, I looked forward to hanging around the potting shed and swapping stories with my Master Gardener cronies. Saturday morning, it was my job to take tickets at Jack and Ginger Koelling's garden entitled "Country in the City."
I was drooling over this yard. It was warm, inviting, peaceful, colorful, natural…everything I want my backyard to be. I realized I needed to pick that gardener's brain. What was Jack's vision, where did he shop, how did he fertilize, how was he inspired, what garden magazine was he reading, what had he learned over the years, did he have a favorite plant? We were busy and I didn't get to ask all of my questions. Here are the ones I did ask:
How do you fertilize?
At planting Jack adds bone meal (phosphorus), blood meal (nitrogen) and fish emulsion (nitrogen, phosphorus and potassium) to the soil. To maintain nutrients in landscape beds he adds a slow release fertilizer in the spring along with compost. Slow release fertilizer is added again midsummer. The lawn is soil tested every spring and fertilized as needed.
How do you keep it all watered?
All landscape beds and bird baths have either a drip line or sprinkler in them. To mark sprinkler lines under the ground, he lays rebar next to the pipe (I thought that was brilliant!!) Jack uses a metal detector when locating lines.
How do you keep the squirrels out of your yard?
Jack said the secret to keeping the squirrels from eating plants and birdseed is to feed them. He actually feeds them on a tree just past his property line next to the community pond.
What is your favorite plant?
I don't have one. I plant what my wife likes. (Yes, he is a very smart man.)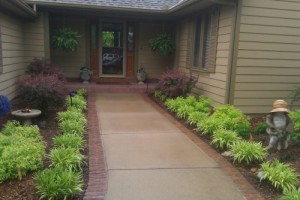 I was impressed by Jack and Ginger's ownership of the landscape. They had a photo album, documenting from the beginning, the building of thier home and how the landscape has transformed over twenty years (Most of us want instant beauty but that takes patience and time as plants grow, as our knowledge changes). Original plant labels were taped on paper and labeled with when and where they were planted. Excellent documentation!
Let me encourage you to find out when your community has garden tours. I know you will be inspired and it will be well worth your time. Oh and yeah, find the gardener of the home and ask a few questions. That's one thing I've learned over the years, gardeners LOVE to talk about their gardens.
Have you been on a garden tour? I'm curious, how were you inspired?