Potted plants bring color to the deck or front door step. To keep them blooming and growing fertilizer is key. That's how the grower got them so gorgeous and eye catching!
I use two different methods to feed my potted flower plants with nutrients: liquid fertilizer and a slow release granular fertilizer.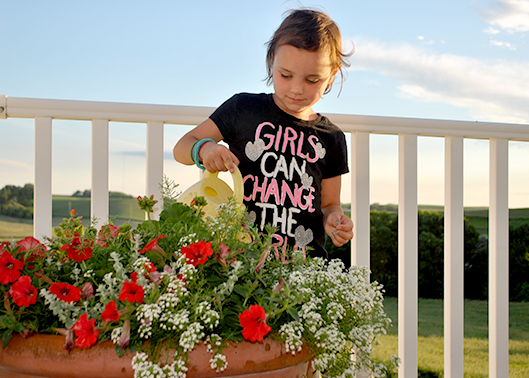 Liquid Fertilizer
I like to use the liquid fertilizer because it goes directly to the plant roots and it is absorbed quickly. The most popular synthetic liquid fertilizer is a blue powder that you measure and mix with water. Organic forms include fish emulsion and seaweed extract. There are a lot of different brands of liquid fertilizers you can use, just be sure to follow label directions when mixing. To keep your pots full of color, it's wise to create a routine for feeding regularly.
Slow Release Granular Fertilizer
For busy gardeners (and over-committed moms), feeding their pots with a slow release granular fertilizer is a time saver and allows the flower pots to get a little neglected. These fertilizers are coated and slowly release nutrients over an extended period of time. It's important to note the date when you added the fertilizer so that you know when you need to add more. Each brand is different, so follow label directions.