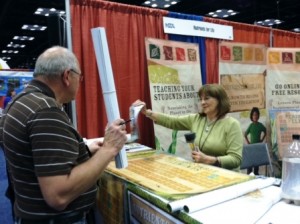 What's soil got to do with it? Everything! It is a non-renewable natural resource that is the key ingredient in food, fiber and fuel production. Agriculture is the only essential industry on earth, and we must continue to share our message and methods to those who are not in the industry but consume our products.
"To forget how to tend the soil is to forget ourselves." – Mahatma Gandhi
Lest we forget, soil science is a core unit taught in our schools! The annual National Science Teachers Association (NSTA) conference is a mainstay for all of us at the Nutrients for Life Foundation. With colorful banners displayed and stacks of curricula and magazines at our booth, the Nutrients for Life team provide science teachers with information on the role soil and crop nutrients have in our world. Our curriculum, Nourishing the Planet in the 21st Century, and resources are free to all educators. In creating the curriculum, we followed the key objectives from the National Science Education Standard and had them reviewed by the Smithsonian Institute. Our curriculum and resources complement other soil units and are easy for teachers to incorporate into their lesson plans.
The Nutrients for Life team will be at the 2013 NSTA conference in San Antonio, April 11-14 in booth #1413. If you are at the conference, please make a point to visit our booth and see what new items we have to offer. Our workshop, "What's Soil Got to Do with It?," will be led by Orlando AP Science teacher and department head, Nancy Bridge. Nancy has a wealth of experience and knowledge that comes out passionately as she talks to her peers about soil science and crop nutrients. Nancy Bridge explains her enthusiasm: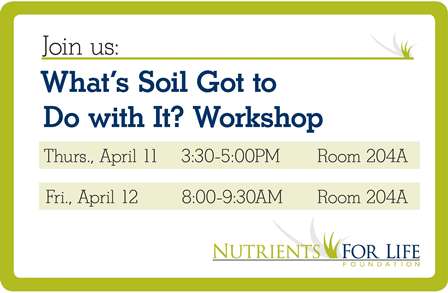 "If there was one total package that could be delivered to the public about food production; it is the core message of the Foundation about the essentialness of fertilizer in feeding the world. The Nutrients for Life curricula are well written and easily incorporated into any science curriculum K-12.  When I present the curricula at NSTA, I speak to a diverse group of 50 to 100 teachers with their own students, most of whom have no agriculture background.  These teachers walk away with fun ideas that are classroom ready, curriculum supplements, and have challenged their own personal views about the agriculture industry. What an awesome opportunity for the agriculture industry and Nutrients for Life!"
Debuting at the conference will be our new phosphate mining video and activities. The video highlights how and why phosphate is mined and the land reclamation process. The video would be a great addition to any high school science class.

We look forward to meeting this year delegation of teachers. If you are at the convention, please come and see us! We will give you free resources that will excite and prepare you to teach your students about the importance of soil, as well as, prepare them for academic testing.
"Only with adequate investment in soil science will the nation have the workforce (educators, researchers, and land managers) necessary to safeguard this irreplaceable resource and ensure ecosystem health as well as the continued sustainable production of feed, fiber, food and fuel."
– Soil Science Society of America
What's soil got to do with it? Everything!