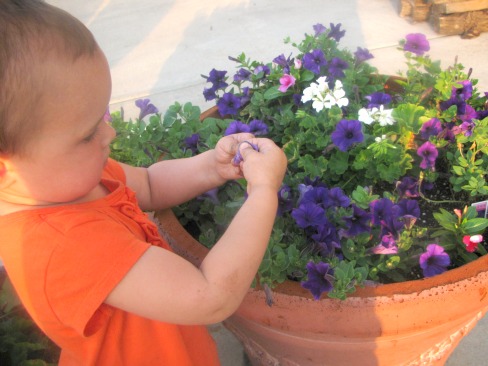 Today we were out weeding…again. I explained to our two-year-old that if it has a flower it is NOT a weed, please do not pull it! I know some weeds, like dandelions, have flowers, but the weeds we were pulling today did not have flowers. She did a great job until we moved over to the four flower pots I have at the corner of the house. For some reason, the purple petunias were too much to resist and she pulled a stem right off the plant. Quickly, I found something else for her to do; I didn't want her to ruin the entire pot of flowers.
Minus the damaged petunia, my pots are finally brimming with color. Over a two week period they went from leggy and wimpy to full and gorgeous. I give credit to heat, timely watering and fertilizer.
I use two different methods to feed my potted flower plants with nutrients: liquid fertilizer and a slow release granular fertilizer.
Liquid Fertilizer
I like to use the liquid fertilizer because it goes directly to the plant roots and it is absorbed quickly. The most popular synthetic liquid fertilizer is a blue powder that you measure and mix with water. Organic forms include fish emulsion and seaweed extract. There are a lot of different brands of liquid fertilizers you can use, just be sure to follow label directions when mixing. To keep your pots full of color, it's wise to create a routine for feeding. I have "Fertilizer Friday" where all potted plants and a few flower beds get fed.
Slow Release Granular Fertilizer
For busy gardeners (and over-committed moms), feeding their pots with a slow release granular fertilizer is a time saver and allows the flower pots to get a little neglected. These fertilizers are coated and slowly release nutrients over an extended period of time. It's important to note the date when you added the fertilizer so that you know when you need to add more. Each brand is different, so follow label directions.
Now that I've shared my potted plant knowledge, I'll head out to the weeds again….before my daughter finds more flowers to pull.