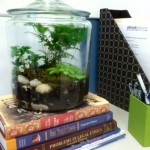 My co-worker, Julie Buratowski, was telling me how her new terrarium had changed the atmosphere of her office. So proud of herself, she sent me a few pictures. I agreed, it was cute and worthy of a blog entry. Feeling inspired by its simplicity and uniqueness, my girls and I dug out an old glass jar in the basement. We will be building our own terrarium. I hope Julie's blog post will inspire you too.

Guest Blogger: Julie Buratowski
The phrases "Go big or go home" and "Bigger is better" are not always true.  In fact, cell phones, student loan debt, and my terrarium would disagree.  In my case, I missed having a garden since I moved to Washington, D.C. six months ago.   As the proud new owner of a balcony for a "backyard" and a hallway for a "front yard," I began to miss gardening on day two of being in my new home.  Sure, I made jokes about not having to weed anymore, but the truth is that I missed nurturing something and the responsibility of good stewardship.  I knew I needed a garden outlet when I kneeled down at the metro bus stop to pick dead blooms (deadheading) of the spindly chrysanthemum bush- my boyfriend asked me to please stop and standup — "How about I buy you a plant for your office?" he offered.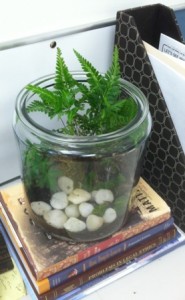 That night on the phone, after assuring my mother that I still had my pepper spray in my purse, I began telling my mom about how the city owes me landscaping fees because of my pruning at the metro bus stop.  As an avid gardener herself, she instantly understood my problem.  Coming from the lady who has turned wood pallets into artistic planters, my mom urged me to try more than a house plant – a terrarium.
A small little garden was just the thing to add interest to my office, but it would be a classy complement to any living room, bathroom or library as well.  The University of Missouri Extension Services suggests that before purchasing plants, "Decide on a theme for the terrarium: woodland, tropical or desert. When making this decision, consider the temperature and light where the terrarium is to be located. Select plants that suit the location."  After a little research, I headed to a local supermarket with a small garden center.  This project was very inexpensive – about $25 total.  The glass jar, found in the kitchen storage department, was $12.99.  Moreover, the gorgeous curves of an apothecary glass are lovely, if you are willing to spend a little extra money.  Setting up your little world is simple; you will need a small amount of potting soil, a handful of charcoal and pebbles, a few small plants and some rocks or other items for points of interest.  If your container has no lid, that's fine, the open air will cause it to dry out more frequently, and it will need to be watered more often.  If the container has a lid, choose plants that prefer humidity, because of the micro-climate you are creating.  After washing out your container, put a layer of charcoal and pebbles to help with drainage and keeping toxins under control.  Next, you are ready to add plants and fill in with soil.  Any plant you choose should prefer indirect light and, obviously, be an appropriate size for your container.  Potting soil for indoor plants contain enough nutrients to get the plants growing and will not need additional fertilizer for six months to a year after planting.  Leafy tropical plants are ideal for most terrariums, but they take up plenty of nitrogen, which will need to be replaced.
When planting and designing your terrarium, get creative!  That is what makes a terrarium so fun: make a small rock trail, find a mini-garden gnome, or add pieces of bark and moss to the jar.  Also, consider alternatives to the traditional glass jar that I used; I have seen beer bottles used, mason jars, and even a light bulb (intrigued? here is the link – but come back).
The only aspect to terrariums that can be a little tricky is watering.  If your terrarium has a lid, you will need to water the plants very rarely.  If a terrarium gets too much water, the roots of plants will rot and odors will emit from your container.  Yuck. My terrarium is a month old, and the soil is still slightly moist.  I honestly think I will not have to water for another week at least.  I have read that some terrariums need watering every two weeks, but perhaps this was written for a terrarium with no lid.  Nonetheless, it is my feeling that each terrarium is its own unique ecosystem and will have individual needs.  You will get a 'feel' for your terrarium eventually; just remember that a few drops of water in a closed container go a long way.  It is better to err on the side of caution than overwater and end up with a smelly mess.  In the event that your terrarium is too moist, take the lid off for an afternoon or more to help it dry out.  My other rule is to never put your small garden in direct sunlight; the container will get too hot quickly and burn up your plants. Other than that, go crazy folks.  My glass-encased little world instantly filled my garden-less void.  When I am on an endless conference call or the magazine deadline is in thirty minutes while I can't remember my password for my e-mail, it is so nice to peer into my little garden.  Now if I could just find a miniature gnome statue or perhaps a mini-pink flamingo…