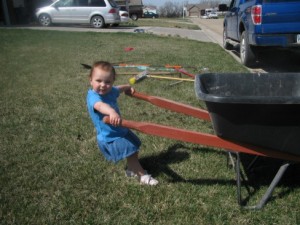 In the same breath, I can tell you that I am exhausted from Christmas but also full from all of the memories created. The tree is still up; suitcases are sitting full of dirty laundry. Toys are strewn from one end of house to the other, and there are three girls silly, full from sugar, creating yet one more memory. There is time to reclaim the house, but right now, I sit and reflect on 2011 and look forward to the promises of a new year.

In terms of gardening, it was a bad year. 2012 can't be any worse…right? Drought and extreme heat left my tomato plants barren, and my green beans devoured by grasshoppers. Under these conditions, I was able to teach my three girls that the weather cannot be controlled. We discussed how farmers dealing with these same conditions had larger consequences and how the nation's food supply could be affected.
The beauty of the first daffodil and the taste of the first homegrown tomato are fresh in my memory. I can't control the weather or rid the world of grasshoppers (however, I will try), but I will start the year off with high aspirations for a weed-free, fertile garden. I long for spring to arrive and as I wait for the change of season, I write my garden resolutions for 2012.
A weed-free garden! Ha, there I said it! I will stay on top of the weeding and will recruit all willing and unwilling hands to help my cause.  Weeds are not just unsightly, but they deplete essential nutrients, leaving the desired plants slow-growing and unhealthy.
Maintain soil fertility. Following the results of my fall soil test, I will apply the correct amounts of N-P-K to our garden beds. Soil is the main ingredient to the entire garden season's success.
Garden all four seasons. I know this is a lofty resolution, but I still have visions of the winter garden in Williamsburg, VA and aspire to have the likes of it. I'm not going to stop planting. When a plant dies from disease, insect, or change in temperature, I am going to yank it out and plant something in its spot.
I want to eat my veggies all year long. I'm like a yo-yo when it comes to freezing/canning my vegetables. This year, I will not let any go to waste and will be sure to get them preserved before they rot in the refrigerator.
Compost garden and kitchen waste. Two springs ago, we removed our compost bin because of its location and have yet to build a new one. I have missed having fresh compost to add to the garden and feel it is a necessary component to anyone with a garden. I will have a new compost system in place by spring (weather permitting).
Build two new gardens. Not in my yard but for my friends. There are a lot of people who want to garden but have no idea how to get started. In one afternoon, I can help a family start a garden that will grow healthy, fresh produce. With some guidance, we can turn a brown thumb into a green thumb.
Teach.  A garden is a great place to "grow my children." There are lessons to be harvested, memories to cultivate, fertile minds to nurture, and mouths to feed. The garden will continue to be a family activity where we will play in the mud, laugh, and bond.
I'm curious, what are your garden resolutions for this year? Please share with me and our readers.  Until then, I best begin reclaiming our house from the Christmas chaos.