Well, it's the middle of October. How can that be? Time has a way of moving quickly and I find myself emotionally tied to the fall season. With crisp air greeting us each morning, I pull out our jeans and sweatshirts from storage and quickly realize that the jeans the girls wore last year now look like capris. They are growing-up so quickly and I, gulp, want to embrace today, who they are and who they are becoming.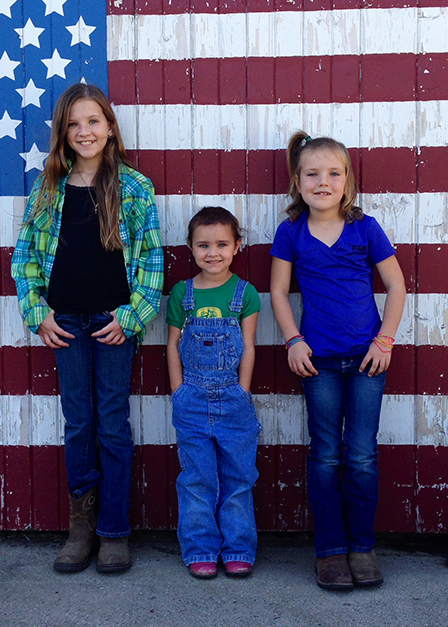 I look out my window and see our neighbor harvesting this year's crop of soybeans. I think about the strong character of this man, a farmer, and consider how he has labored over the same fields of soil for forty-years. His land is a part of him; he has invested and improved it year after year. The soil is not depleted; it is rich and provides an income for his family and food for my plate.  Last year's drought was devastating to him, but this year's timely rains have yielded him a bountiful harvest. In the same thought, my heart breaks for my friend, our 4-H leader, who lost their home, vehicles, barns, equipment, two horses, and crops to a tornado two weeks ago. Just a few miles apart, one farmer is bringing in his best harvest in years and the other is looking at a total loss.
Farming is not as easy as some observe. I get emotional when I read criticism on farming practices and food production. I feel the same as John F. Kennedy, when he said, "Our farmers deserve praise, not condemnation; and their efficiency should be cause for gratitude, not something for which they are penalized," during a speech to Congress about agriculture on March 16, 1961.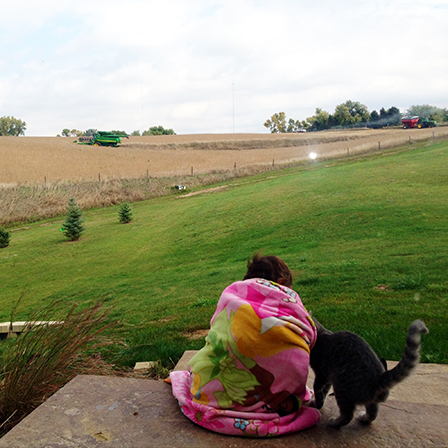 This week, one-thousand international scientific, business, and policy experts from more than sixty-five countries met in Des Moines for the 2013 Borlaug Dialogue. The global gathering has been called the "premier conference in the world for global agriculture." They look ahead to the next century of advances in agricultural research and application and focus on the issues that Dr. Norman Borlaug would have viewed as critical as we strive to nourish the world's growing population.
From my window, I can see how drought and tornados affect our food supply. They are just the beginning of a long list of circumstances to consider when it comes to our food security. I am keenly aware that my growing children are three of the seven billion people that need to be fed by today's farmers. In twenty-years, will my children have a safe, abundant, and affordable food supply?
I do believe, without a doubt, that our current food supply is safe for consumption. I put emphasis on safe, because even today there are moms who walk through the doors of the grocery store fearing their purchases will be dangerous to their children. These thoughts are based on fear marketing rather than truth and science. We should make food choices based on facts, not marketing.
I put my hope in the researchers, like those meeting at the 2013 Borlaug Dialogue, that make it possible for farmers, like my neighbor and 4-H leader, to grow crops with: improved yields, resistance to insects and disease, and the ability to tolerate variations in climate.
We are fortunate to have a safe and abundant food supply, but the reality is that poverty and hunger are very real. This could also be our reality if advances in agriculture do not continue.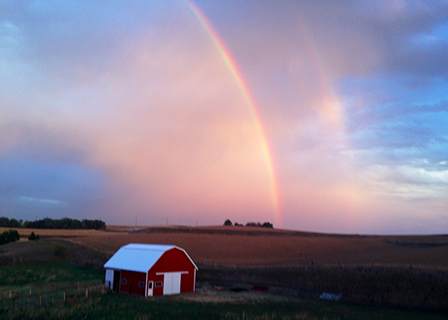 From the same sky that produced the drought and tornado, a rainbow appeared outside my window.  To me, this rainbow signifies the hope for tomorrow being discussed at the Borlaug Dialogues.
Learn how fertilizer helps farmers achieve higher crop yields to feed more people by playing our Humanity Against Hunger game.
Keep up with the Foundation-