While I wait for my garden to mature, I support my local farmers market and road side stands. I have always been grateful for farmers markets. They have given me fresh produce when I didn't have the time and space to plant my own garden. During my youth, the farmers market was a source of income (and entertainment) for my family.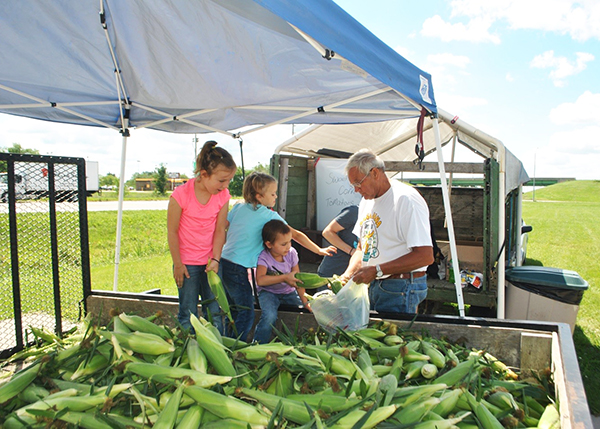 Cousins helping Papa sell sweet corn!
Those of us that grew up going to the farmers market with their parents to sell produce know this is a serious source of income for many farm families. We were fortunate in that our customers were always friendly and loyal! They seemed to appreciate the fruits (or veggies) of our labor. In fact, for the past 27 years our family has supplied the local community with sweet corn.  It continues to be a family farm, as are most farms in the United States. Did you know 96% of farms in the United States are family farms? Hard working families like mine, who are living off the land.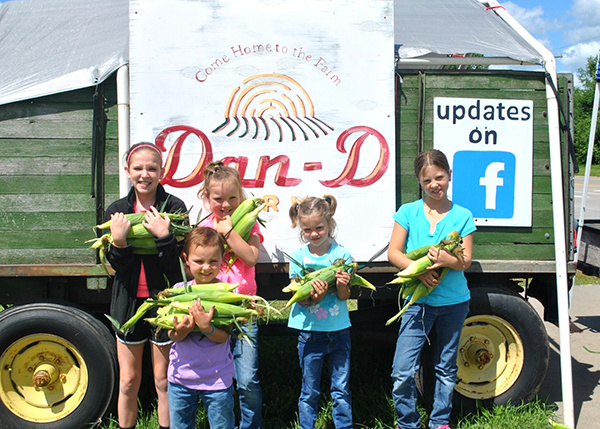 Greg Peterson, from the Peterson Farm Brothers, said it best "The absolute overwhelming majority of farmers in this world are real, wholesome, good-natured farm families who are "just trying to feed enough." The farmers market is a great place to meet these families.
I put out an unofficial Facebook poll and asked my friends why they visited the farmers market.
Here are the top 10 responses:
It feels good to support local agriculture and growers!
It is always better quality as it is almost always fresh.
Grown in America!
Because I am too lazy to grow my own!
I go to get the homemade jam. I'm not a jam maker… yet.
It's great to have such a wonderful variety of vegetables, fruits, plants and baked items.
I love the spirit and enthusiasm of the growers. They recognize us as repeat customers and it's great to get genuine customer service.
The atmosphere is unique and fun.
I like to take my kids. I want them to know their food is grown by farmers and not made in the back of the grocery store.
Because it's too darn hot for my tomatoes and I need to satisfy a craving!
To locate a farmers market near you, go to the national farmers market search engine, sponsored by the USDA. Happy shopping!