During the past year we've had some pretty exciting opportunities including visiting The White House Garden and being interviewed by Good Day New York. This week, we had another "first of its kind" opportunity – the unveiling of the Nutrients for Life railcar! The railcar, which was specially-painted for us by GATX, will serve as a rolling billboard for fertilizer during the next year.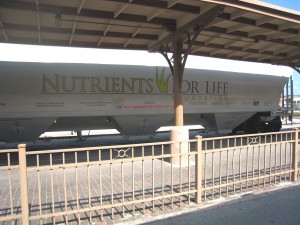 With rail tracks just outside my window, I am going to keep a lookout for the car, and I encourage you to do the same. In fact, if you see it and send us a picture or just mention where you saw it, we'll send you a prize! We're talking about some very nice prizes…stay tuned to find out what the first spotter receives, or be the first yourself! As this car will be carrying potash, it will be making frequent trips to Canada to load up and then back to make deliveries throughout the United States. Following us on Facebook and Twitter (@Nutrients4Life) will give you an advantage, as we will be posting tracking information and helpful hints.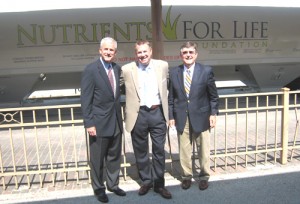 The railcar, which is part of PotashCorp's fleet, is an innovative way to build awareness about fertilizer and Nutrients for Life. Next time you get stopped at a rail crossing, keep your eyes peered as you may just see the Foundation billboard roll on by. And if you do, pull your camera out and snap a picture. We'd love to see it!
Check out our video from the event below!