Do you know where you food comes from? My kids think the best food comes from a restaurant. Okay, so I am not Betty Crocker, but I am in agricultural education and I want kids to know that their food was grown in the soil by farmers. Without the fertile soil of the American farmland, our spoons would be empty.
Take a hamburger; how did it become so delicious? It all started with a seed in the soil. The wheat that makes the bun, the corn that fed the steer, the cucumber that made the pickle and the tomato that made the ketchup. There is a link from the soil to the spoon that is missing for many of today's generation.
To help educate the community, our 4-H club entered a banner in the county fair under the theme, "Got Soil? Where's Your Spoon?"  Here is our banner and a few others presented in the county fair competition.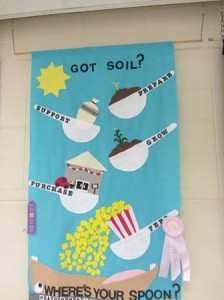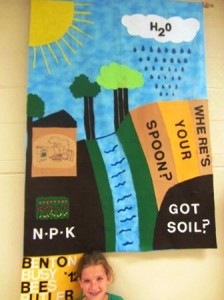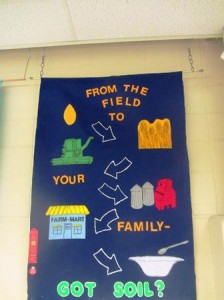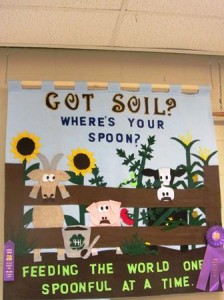 American farmers are feeding the world, one spoonful at a time! 
Extension:
The Junior Master Gardener program has a lesson that teaches where the different parts of the hamburger came from. It's on the second page of the "My Pyramid" Activity. Check it out.
A good example of the amount of land used in food production is found in the middle school and high school versions of Nutrient for Life's Nourishing the Planet in the 21st Century in the apple activity.  Nutrients for Life also has a free poster that supports this activity.